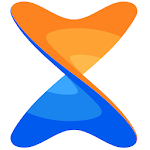 | | |
| --- | --- |
| Price: | Free |
| Version: | 4.4.2.Prime |
| Author: | Xender File Sharing Team |
Xender is one of the most popular file-sharing tools ever created. With more than 500 million downloads worldwide, it claims the top spots on nearly every app store. With Xender you will be able to share numerous files between Android and iOS devices, as well as personal computers and laptops. Xender is 200 times faster than Bluetooth, making it one of the fastest file-sharing apps ever. It does not matter what kind of file you are trying to transfer, please remember that there are no file size limits when it comes to Xender. Download this app right now and say goodbye to slow Bluetooth transfers.
Xender is a completely free app that supports both iOS and Android mobile operating systems. It is also compatible with Windows and Mac, which means you will be able to transfer files from your PC to your phone and vice versa. Xender maintains a high rating of 4.0 on the Google Play Store with more than 2.9 million unique user reviews. We took the liberty of conducting a little research, and after skimming through the comments, we have found no instances where users reported heavy bugs or major fixes. This means that the Xender app is completely safe for any device.
Main Features
200x Faster than Bluetooth – This feature is worth noting quite a few times. We have all gotten used to Bluetooth and its slow speed, but it is hard to imagine any app working 200 faster than Bluetooth. If you do not believe what I am saying, you are free to try out this app right now. It does not matter what sort of devices you are using for file transfers, the speed always remains the same.
No Internet Connection – If you think that you will have to spend a lot of your internet bandwidth on Xender file transfers, you are completely wrong. Using a cellular service, Xender does not require internet access in order to transfer files. The only thing that's required of you is to pair your devices, the rest will happen automatically. However, please note that the transfer speed is much faster when the devices are placed closely with each other.
Language Support – The Xender app has support for English, Russian, Spanish, and 27 more languages. More and more languages are being added to the Xender interface on a monthly basis, and soon this app will become fully international.
File Formats – The best thing about Xender is that it does not limit the size of your files. You can transfer terabytes of files within minutes by using the Xender app. Furthermore, Xender has support for pictures, videos, documents, and just about any file format you might come across.
Conclusion
All in all, the Xender app is a perfect tool for file sharing. Being 200 times faster than Bluetooth, it's arguably the fastest app on the market right now. If you would like to acquire this app for free, please click the download button located on this page. We always strive to upload the latest and cleanest APK files for our users.