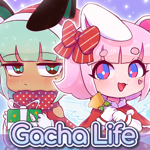 | | |
| --- | --- |
| Price: | Free |
| Version: | 1.1.0 |
| Author: | Lunime |
Gacha Life is a role-playing game that lets you optimize your anime characters. This game is pretty unique and includes customized features like dressing your characters, picking their hair color, buying new outfits, customizing weapons, and so forth. After designing the characters, you will be able to enter the studio and make different scenes. Do you like music? No problem, let your favorite character sing preferred songs. If you are interested in anime or role-playing games, it will take you only a few minutes to get completely addicted to this application. Sign up for Gacha Life now and create awesome-looking anime characters.
Gacha Life is a completely free game that supports both web and mobile phone operating systems. You can simply choose to play it on your personal computer with a Google Chrome extension, or go to Google Play/Apple Store and download it from there. Windows phone users also have the opportunity of downloading this game by going to the official Microsoft Store. Gacha Life maintains a high rating on the Google Play Store with more than 2.6 million unique user reviews. With more than 500 million downloads worldwide, Gacha Life is one of the most popular games ever created.
Main Features
Dressing – You are given full authority over your character's style. You can make their hair, dress them in a certain way, give them weapons, and so forth. If you are heavily into role-playing games, this app is a must-have tool for you because it lets you customize your character's details with great precision. Upon starting the game, you have to give your character a name, customize their exterior, and make them play in different stories.
Create Stories – Creating stories is another awesome feature of Gacha Life. You can choose to play studio mode and create interesting scenes. Simply design dialogs by entering various texts and your characters will be more than happy to speak on your behalf. However, in order to create an interesting story, you will have to design more than one character.
Life Mode – If you are done with creating stories, switch to the Life Mode, and enjoy a perfect life simulation. You will have to control your character's lifestyle by making everyday choices. However, be careful, because if you make a lot of mistakes, your character will end up with a terrible life and you will have to start from the beginning.
In-App Purchases – Some people see it as a disadvantage, but there is nothing wrong with spending a few bucks on a game. Some people who have been playing for years cannot advance without spending money. You can acquire new items with in-app purchases (these items are not available for free).
Conclusion
All in all, if you are interested in role-playing games, Gacha Life is definitely for you. Create awesome-looking anime characters and pick your favorite story mode. In order to get started right now, please click the download button located on this page. We always strive to upload the latest APK files for our users.