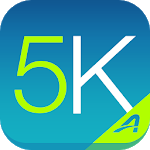 | | |
| --- | --- |
| Price: | $1.99 |
| Version: | |
| Author: | ACTIVE Network, LLC |
The Couch to 5K app is a very widely used program that helps its users accomplish the 5-mile running program. This app is designed to help beginners develop their running skills. If you are in fact somewhat lazy, and would like to start running, but don't know how the Couch to 5K app will definitely be a great help for you.
The training menu includes a nine-week duration and is aimed to help you run 5 miles in 30 minutes. Due to the reasons that this app is for beginners, the training sessions must happen no more than three times a week. The training program includes intervals of jogging, walking, and sprinting, with hopes to make you achieve the final run of 5 miles in under 30 minutes.
Please note that this app is not free, and can only be purchased by official vendors. Meaning you will be able to get this app from Google Play, and Apple Stores. The original price is $1,99, which is not a great deal of money, however, please read this review first before making a purchase.
The Couch to 5k app has more than 100,000 downloads and maintains a high rating of 4.7 on the Google Play Store with more than 28,000 user reviews. We were curious about such ratings and took the liberty of conducting a little research. However, we found neither fake reviews nor instances where users reported bugs or data theft. This means that the Couch to 5k app is very safe to download.
Main Features
Professional Training Menu – Have you ever heard of the website active.com? Well, it is one of the largest websites that provide different training menus for apps such as Couch to 5K. By using this app, you can be sure that you are guided by professionals who will not let you down, and help you accomplish your goals in a short period of time.
4 Coaches – This application features 4 coaches, each of them has a different approach to each user. Needless to say, the training program remains the same, but each of these four coaches has different motivational tactics, so choose carefully.
Included Music – The Couch to 5k app includes lots of motivational songs, and playlists in order to make you more active during the running intervals.
Human Guide – It's always hard to last through the tough training program, and this is exactly why you are going to have a personal human voice assisting you during each session of your workout.
GPS Support – Needless to say, this app calculates your speed, running interval, and burnt calories. You will be able to access all of the data in real-time.
Workout Graphs – Each workout is broken down in detail, and transformed into graphs for your viewing pleasure. You can then compare each workout, and track your progress efficiently.
Conclusion
Yes, this app requires you to pay $1.99 as a one-time payment, but we think it is worth every penny. If you wish to acquire this app right now, simply click the download button on this page, and follow the instructions.